Manufacturing, Food Processing and More
Headquartered in Lancaster, PA, VisionCorps operates three manufacturing facilities, including one food packaging facility and one enclave kitting operation in a partner facility. VisionCorps also has an E-Commerce website. Manufacturing is a core business spanning across several product lines in our Business and Industry Group, including textiles, sewing, assembly, kitting, repackaging, liquid filling and packaging, food packaging, warehousing, taping and wrapping, and supply chain management.
Our Business and Industry Group offers project management, process engineering/management, full production services, order management and fulfillment as part of our complete supply chain management. Some other capabilities include sourcing, supplier review and approval, and logistics.
331,757
sets of ACH helmet pads
were completed in our Lancaster facility and distributed to the U.S. Military
3,481
tons of rice packaged and shipped
from our Lebanon facility both domestically and internationally for the Defense Logistics Agency (DLA) combat support agency in the U.S. Department of Defense (DOD).
49,553
delineator posts for PennDOT and PA Turnpike
manufactured for the state of Pennsylvania and distributed for road safety.
56,484
janitorial & sanitation spray bottles
filled, labeled, packaged, and distributed with cleaners and disinfectants in our Lancaster facility.
Latest federal construction projects serving Army Corps of Engineers, Naval Facilities Engineering Systems Command (NAVFAC), Veterans Administration (VA), and Air Force include:
Joint Base Elmendorf Richardson (JBER)
ASP Admin. Building
U.S. Air Force, Anchorage, AK
179th Air Lift Wing
Mansfield Hanger
Ohio Air National Guard, Mansfield, OH
Joint Base Lewis McCord (JBLM)
Aircraft Engine Test Facility
U.S. Army,Tacoma, WA
VisionCorps: Mission-Minded Manufacturing and Services
Partner with VisionCorps! Let us help you to achieve your goals.
VisionCorps invests in its employees by implementing the latest technological solutions and equipment to support their medium-to-large line endeavors. In addition, VisionCorps is a valued resource for its partners as a gateway to untapped federal contracting opportunities through the AbilityOne Program, the largest source of employment for people who are blind or have other disabilities.
By outsourcing to our Business and Industry Group, our partners benefit from reduced production bottlenecks, reduced payroll and benefits costs, and lower operating capital requirements. We can manage your project at one of our facilities or deploy a team of talented employees to work in one of your locations. VisionCorps in Lancaster is ISO 9001:2015 certified, and our food manufacturing management systems include certifications from USDA, FDA, and GMP. VisionCorps boasts an exceptional customer satisfaction record, produces high-quality products as well as on-time delivery. VisionCorps has Operations in Lancaster, Lebanon, York, and Myerstown (on-site at Bayer Healthcare).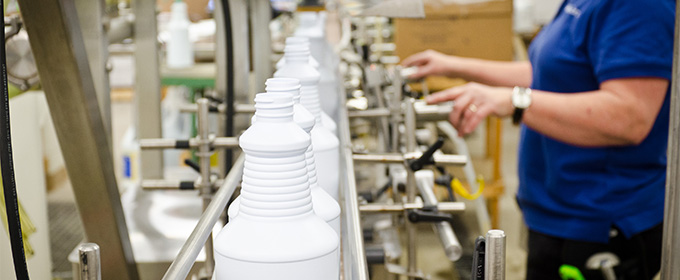 Manufacturing
VisionCorps offers many value-adds including entry into the Federal Government space and extensive expertise in government contracting and logistics. We act as a full partner for your organization, giving you access to industry partners in the supply chain through our past relationships and creating greater efficiencies for our customers. You can count on our end-to-end business model to provide you with supply chain material sourcing, full production and order management, and high-quality end items in accordance with military standards. VisionCorps is committed to our business relationships, focusing on continuous improvement and customer satisfaction, as well as on-time delivery.
Our Capabilities
Liquid filling and packaging
Light manufacturing
Assembly/kitting
Textile manufacturing
Sewing
Full Production & Order Management
Warehousing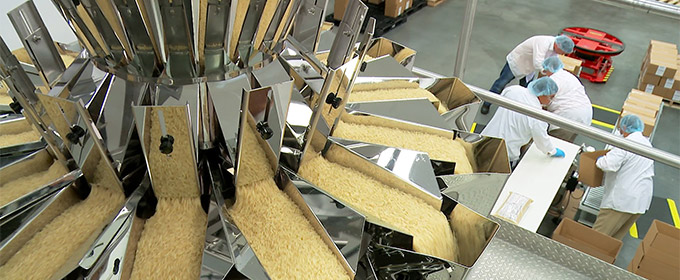 Food Processing
VisionCorps offers a wide range of manufacturing and packaging services to the food industry. Our business partners have included defense contractors, government agencies, and national prime vendors, such as US Foods, Sysco, and others. By using VisionCorps' facilities and resources, our partners benefit from our many years of experience in quality co-packing, flexible manufacturing space, state-of-the-art equipment, and access to major freight lanes.
Our Capabilities
Assembly & Packaging
Supply Chain Management
Ingredient Sourcing
Supplier Review & Approval
Logistics
FDA Inspected Facility
USDA Inspected Facility
Good Manufacturing Practices (GMP) Audit Certificate
Allergen Statement
Continuing Letter of Guarantee
Quality Assurance Statement
NAICS Codes
311423 – Dried and Dehydrated Food Manufacturing

311999 – All Other Miscellaneous Food Manufacturing

315280 – Other Cut and Sew Apparel Manufacturing

315990 – Apparel Accessories and Other Apparel Manufacturing

323113 – Commercial Screen Printing
325611 – Soap and Other Detergent Manufacturing

325612 – Polish and Other Sanitation Good Manufacturing

325998 – All Other Miscellaneous Chemical Product and Preparation Manufacturing

339999 – All Other Miscellaneous Manufacturing
423710 – Hardware Merchant Wholesalers

424690 – Other Chemical and Allied Products Merchant Wholesalers

493110 – General Warehousing and Storage

493190 – Other Warehousing and Storage

541990 – All Other Professional, Scientific, and Technical Services
561110 – Office Administrative Services

561410 – Document Preparation Services

561439 – Other Business Service Centers (including Copy Shops)

561910 – Packaging and Labeling Services

811213 – Communication Equipment Repair and Maintenance
Trusted by Industry Leaders
Our Locations
VisionCorps has three manufacturing facilities and one enclave in the state of PA.
Corporate Headquarters, VisionCorps Lancaster – Ann B. Barshinger Visionary Center
Corporate office with administrative office space and three floors of manufacturing including textiles, road safety and liquid filling for cleaners.
VisionCorps Lebanon - Alley Center for the Blind
Food-grade manufacturing facility, climate & humidity controlled with warehouse and administrative office space.
VisionCorps York – Richard & Ann B. Barshinger Visionary Center of York
Manufacturing facility for assembly and kitting, and administrative office space.
×
Find out why partnering with VisionCorps is right for you!
Contact our business development team today to learn more about how we can provide solutions to your project needs.
Get to know us and our mission
Find out how our Business & Industry Group can serve your needs, manage your project and provide a quality management system while supporting our mission, vision and values.